Jonathan T. Calderon, DDS
Dr. Calderon joined our practice in 2008. He is a native of Dallas, Texas, where he attended Baylor College of Dentistry. He is a current member and past-president of the Brevard County Dental Society. Over the last 10 years, Dr. Calderon has made volunteering his time a priority. He volunteers monthly at the Brevard County Health Department's Adult Dental Clinic, and gives "Tooth Talks" at local elementary schools during Children's Dental Health Month. He enjoys working on teeth of all ages, and loves getting to know each of his patients. For fun, Dr. Calderon enjoys playing the piano and tennis. He and his wife, Ruth have four children: two sons, Caleb and Austin, and two daughters, Emily and Autumn.
---
Joshua V. Chapman, DMD
Dr. Chapman joined us in September 2019, he is a native Floridian and second generation dentist. He graduated from the University of Florida with a bachelor's degree in nutrition and continued his dental education there, where he received his Doctor of Medical Dentistry degree. He practiced in Sebastian Florida for 15 years before moving to Satellite Beach. He has extensive continuing education in implants, cosmetic dentistry, and periodontal laser surgery. He is a past and current member of the American Dental Association, Florida Academy of Cosmetic Dentistry, Academy of General Dentistry, and the International Dental Implant Association. He and his wife, Carrie have two children, Chase and Savanah. He is an active father and husband heavily involved with Boy Scouts and going to piano and dance recitals. In his spare time he enjoys golf, saltwater aquariums and poker.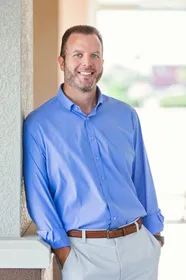 ---
Cobey Clemishire, DMD
Dr. Cobey joined us in July of 2022. Dr. Cobey is a native Oklahoman. He graduated from The University of Oklahoma and went to dental school at WesternU in California. Dr. Cobey practiced for 5 years in Coastal Bend of Texas before joining us. He enjoys all aspects of general dentistry. He is an avid surfer in his free time and also enjoys photography. He and his wife, Kyndle have one daughter, Laikyn.
---
Jess H. Yates, DMD

Retired December of 2021
Dr. Yates has practiced dentistry in Satellite Beach for over 35 years. He grew up in Melbourne and graduated from Eau Gallie High School. He attended dental school at the University of Florida. He is a current member and past-president of the Brevard County Dental Society. Dr. Yates has participated in dental mission trips to Central America and the Caribbean. He loves working with his patients, and tries to create a fun and positive dental experience for each one. Dr. Yates has been married to his wife, Bertie, for 40 years and has four children, and ten grandchildren. He enjoys fishing, skiing, tennis, racquetball and studying the Bible.
---